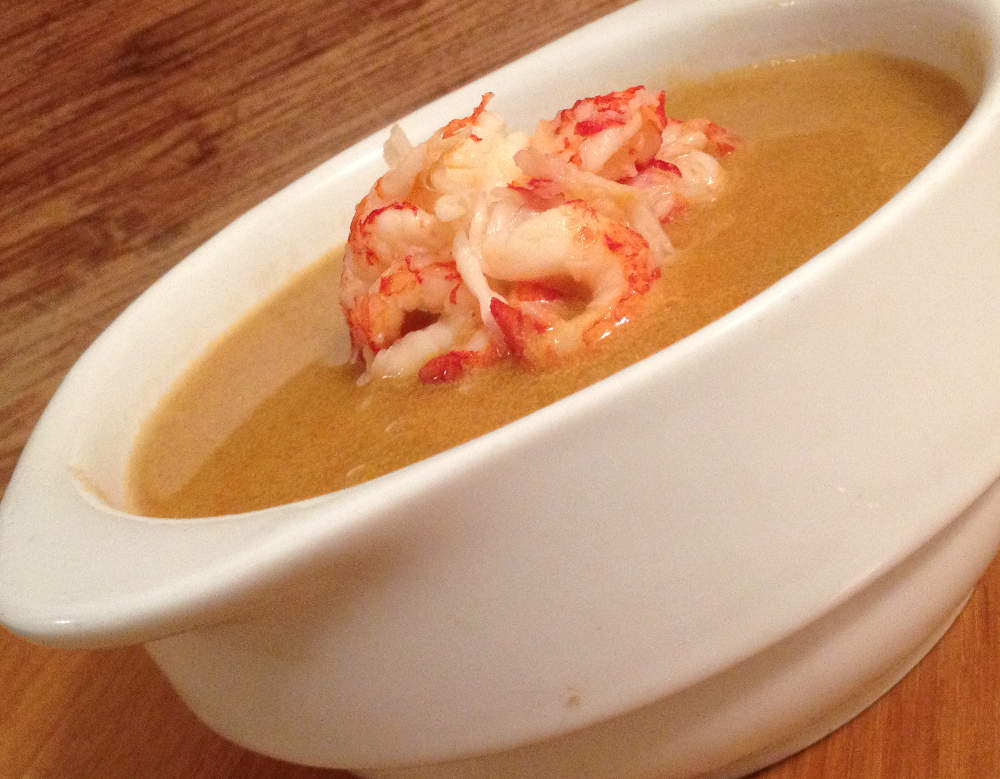 Ingredients
2 litres Fish Stock
500g Baked Crayfish shells (legs, claws & backs)
6 Freshly cooked and peeled Signal Crayfish per serving
3 Shallots roughly chopped
3 tbsp Corn flour
1 tbsp vegetable oil
1 medium Carrot roughly chopped
1 Stick of Celery roughly chopped
2 garlic clove, peeled and crushed
2.5cm piece root ginger, roughly chopped
1 tsp Cumin seeds
1 tbsp Tomato Puree
  tbsp Dried Parsley
1tsp Anchovy Paste
1 tbsp Smoked Paprika
2 tbsp Brandy
150 ml White Wine
100ml Double cream
1 tbsp lime juice
Preparation method
Place the Vegetable oil in a saucepan large enough to hold 2 litres of the Bisque.
Gently sweat the Shallots, Carrots, Celery, Ginger and Cumin seeds for 5 minutes.
Throw in all of the cooked Crayfish shells and stir well to completely combine.
Watching closely increase the heat up to maximum and wait for 30 seconds.
Carefully pour in the Brandy keeping yourself clear in case it flames.
Combine all the ingredients in the saucepan well.
Now add the Fish Stock, Wine, Anchovy paste, Tomato Puree, Parsley, and Smoked Paprika and bring to a rapid boil.
Then turn heat down to the lowest simmer you can and add the Lime juice.
Simmer for at least 30 minutes or until the liquid has reduced by about a quarter.
After the Bisque has reduced remove from the heat and allow to cool slightly.
Pour the Bisque through a sieve to separate the liquid from the solids.
Return the liquid Bisque to the saucepan and put aside.
Now place all the solids into a blender and whizz until you get a gritty consistency.
Return this to the saucepan that has the liquid Bisque in and return to a low heat.
Simmer for a final 5 minutes to extract the extra flavor you've released by whizzing.
After the 5 minutes pass back through the sieve pressing with the back of a spoon to make sure you get every drop of the
liquid into a clean saucepan.
Once again return the Bisque to a low heat.
Combine the Corn flour with 100ml of cold water.
Slowly pour into the Bisque while whisking continually to avoid lumps
Simmer for 5 minutes to cook out the flour.
Just before serving remove from heat and gently stir in the double cream and serve.
When serving ladle onto bowls and just before taking to the table drop in 6 of the freshly cooked and peeled
Signal Crayfish for that extra little surprise.