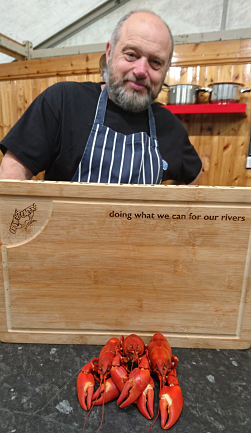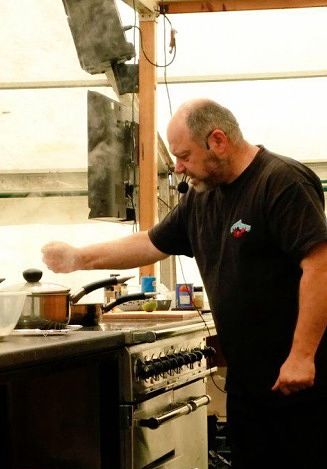 Over the last 11 years Mark has been doing whatever possible to heighten awareness of the Signal Crayfish situation occurring in many areas of the UK. Along with Catering at many of the major country and county shows we have found the best possible way to inform people is through cookery demonstrations. For the last 5 years Mark has been climbing up onto the stage to show the public just what fantastic recipes can be produced with these massively underused Crustaceans. Cooking with and for many celebrity chefs who agree that they are probably one of the most accessible regional resources in the UK
Typical Demonstration Format
Short History of the Signal Crayfish, how they arrived on our shores
How and where to get yourself Licenced and why its important. 
15 mins
Where to find, how to identify, cook and Peel 
15 mins
The Fun Bit, Cooking....
There are unlimited recipes that can be created with the Signal Crayfish.
Signal Crayfish Ravioli, Signal Crayfish curry, Signal Crayfish Bisque to mention but a few.    
Talk to us before the event to discuss what you'd like.
15 – 20 mins
Timings are only for a guide and Mark can run the demo to suit.
Book Your Demo Now while 2019 dates for still available
If you'd like Mark to demo at your event see please use the contact tab to email us to discuss your event and prices.