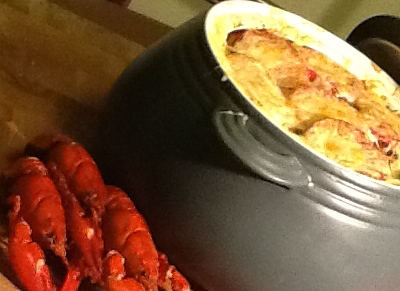 Ingredients
1 jointed and boned rabbit (most butchers will do this)
4 skinless chicken thighs
30 cooked & peeled signal crayfish (reserve the shells but not heads)
Salt and black pepper
4 rashers of smoked streaky Bacon cut into small pieces
1 tsp smoked Paprika
1 tsp cumin seeds
1 tsp ground Cumin
1 tsp coriander seeds
1 tsp curry Powder
1 tsp ground Turmeric
2 tbsp plain flour
1 chorizo, sliced
Grated parmesan
1 beef tomato
Olive oil
4 finely chopped cloves of garlic
12 whole small onions
Unsalted butter
1 tin chopped tomatoes
Juice of 1 lime
2 litres chicken stock
250ml dry white wine
French bread cut in rounds
Method
1. Slice chorizo into slightly angled 5mm thick pieces.
2. Gently dry fry the sliced chorizo to extract the oils.
3. Remove and reserve leaving the extracted oil in the pan.
4. Mix the paprika, cumin seeds, ground cumin, coriander seeds, curry powder & ground
    turmeric into a dry mix.
5. Cut the rabbit into pieces (bite size) and dust with the dry spice mix then gently fry.
     When this is done remove and fry the chicken (spice mix not needed for chicken).
    Fry until lightly browned (2 minutes). Remove and reserve.
6.  Lastly toss in the whole onions and streaky bacon, until lightly browned.
      Remove and reserve.
7.  Make basic rue by combining the butter and flour.
      (This thickening can be done with corn
      flour and water if you prefer).
8.  Place the chicken stock, wine and crayfish shells into frying pan and simmer for 10
      minutes.
9.  Sieve out crayfish shells, add garlic and tin of tomatoes then season with salt and black
      pepper. Thicken broth with the rue or corn flour mix.
10.Place the rabbit, chicken, chorizo, onions and bacon in deep casserole dish making
      sure you mix them all well. (NOT THE CRAYFISH)
11.Gently pour the broth into the casserole dish making sure it submerges everything and
      cover with lid.
12.Cook for 3 1/2 to 4 hours at 140C.
13.When you have 15 minutes cooking time left remove from oven and gently stir in
     peeled crayfish tails and squeezed lime juice.
14.Cut your French bread into enough rounds to cover top of casserole.Lightly brush one side of each with olive oil.
15.Now gently push each round of bread, oil side up, into casserole then lift, flip over and
      push back into casserole oil side now down.
16.Place a thin slice of beef tomato on top of each round lightly sprinkle with grated
      parmesan.
17.Return to oven with no lid at higher temp of 200C until cheese has melted and golden.
Best served with big French flat fried potatoes and a cold glass of dry white wine