Identification
Click here to download a PDF containing important identification information.
Typical images of Signal Crayfish
Many thanks to NNSS for images.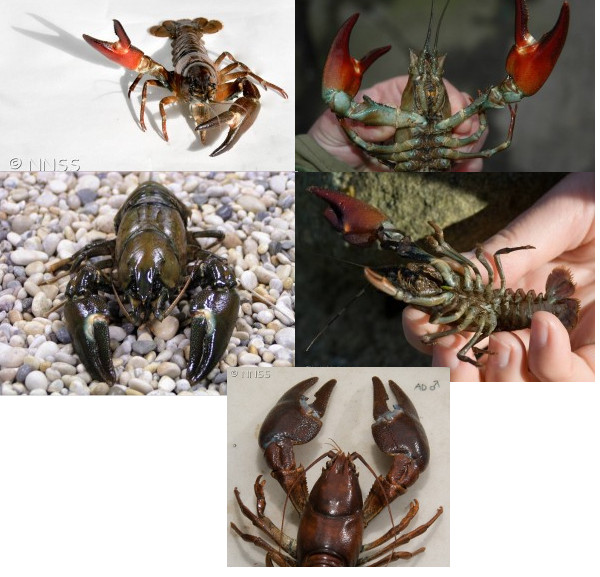 Your First 3 Steps to Trapping
Your very first step, before you buy any pots, ropes or any equipment is to contact the Environment Agency. (Link below) They are the custodians of our Rivers and will be able to inform you if there are Signal Crayfish were you intend to Trap. There are restricted areas where native White Clawed Crayfish and any other 'at risk' wildlife are protected. You won't be able to Trap if this is where you want to fish. If this is the case it's still, worth talking to the Environment Agency as these areas tend to be quite small and there may be another situation nearby that can be fished.


If it's confirmed that Signal Crayfish are present the EA will advise on legal specification of trap. (Link to suppliers below) Or feel free to get in touch with me. General information on trapping plus what to look out for along the Riverbank will be sent to you along with tags for each of your intended Traps.


Find the land owner of the Riverbank you intend to Trap from. This can be the most difficult part of the overall process but don't give up. The best route to follow is to look for Public footpaths along the River. Then contact the council to inform them that you are a licensed Trapper and would like to Trap there. Another area to investigate is local Fishing Clubs. You could even contact these before getting in touch with the Environment Agency as they will know if Crayfish are present

But, the final ok must come from the Environment Agency, they are the only organisation legally able to give Trap Licenses.
Then, land owner permission gained, license tags attached to traps off you go. The season really runs from the beginning of March right through to the end of October. But over the years I've been Trapping we have caught all year round, depends on temperature and river height as a rule but you just never know.
The link below will take you directly to the relevant Environment Agency page for all the information and contacts for gaining permission and Licensing.  (Environmental Agency)
Starter Kits will be 
available 

during 2018 season, details available soon.